V3 Device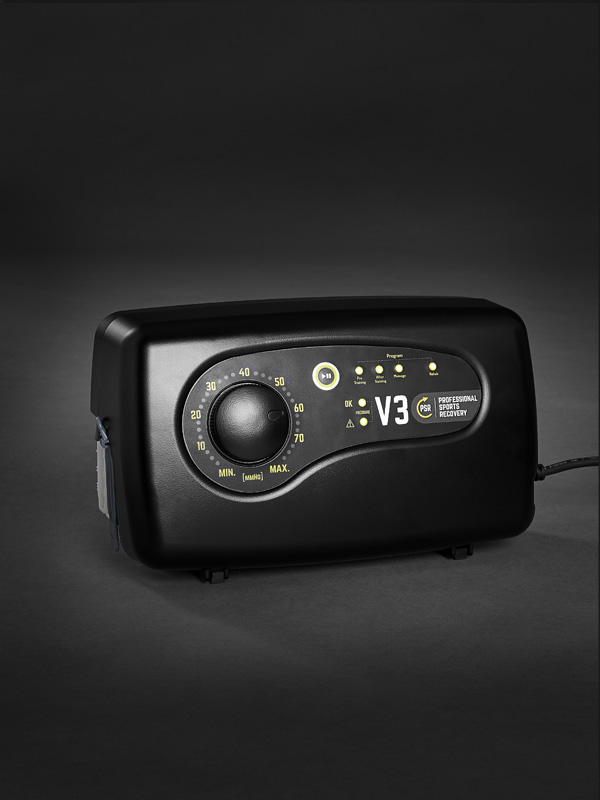 The high-performance air pump with an intelligent control system controls the 3 chambers of the treatment garment and fills them with air. The rhythmic build-up and reduction of the sequential pressure stimulates the muscle pump and improves the gas exchange and metabolism in the surrounding muscle tissue.
The user-friendly display offers you a high degree of operating comfort and is particularly easy-to-use, allowing you to adjust the pressure and duration of therapy exactly to your needs.
Features:
Compressor with user-friendly display, where the user can set one of the 4 preset programs - adapted to specific training circumstances, injuries and other particular situations
4 preset programs: Pre-Training, After Training, Massage and Rehab
Can be operated by the user individually
Developed and manufactured in Germany
German medical device of class 2a
Very quiet and powerful motor
After the therapy time is over, the motor switches itself off
Included Items:
V3 air pump device with connecting tube and cord (what is included in this package)
Color: Black
Size: Length: 11" (28cm), Width: 4.7" (12cm), Height: 5.9" (15 cm)
Pressure Range: 20 - 80 mmHg (+/- 1 mmHg)
Service Life: 5 years / 2000 operating hours
Power consumption: max. 15 W
Fuse: Fine-wire fuse T1A AC 250V
Power supply: 230 Volt / 50 Hz
Contraindications
Fresh myocardial Infarction
Pulmonary Edema
Cardiac and renal edema
Decompensated heart failure
Erysipelas
Severe non-adjusted hypertension
Acute soft tissue trauma of the extremities
Neuropathy
Occlusive processes in the lymphatic system
Extensive thrombophlebitis, thrombosis or suspected thrombosis
Program Settings:
Pre-Training:
Therapy Time: 20 min.
Inflation Time: 20 Sec.
Deflation Time: 120 Sec.
After Training:
Therapy Time: 30 min.
Inflation Time: 60 Sec.
Deflation Time: 180 Sec.
Massage:
Therapy Time: 45 min.
Inflation Time: 30 Sec.
Deflation Time: 90 Sec.
Rehab:
Therapy Time: 30 min.
Inflation Time: 60 sec.
Deflation Time: 150 sec.